Cycle Groups
Breeze
British Cycling's Breeze is the biggest programme ever to get more women into riding bikes for fun. They want to help thousands of women feel confident and comfortable about going on a bike ride. For further details of free Breeze rides visit the Let's Ride website.
For anyone wondering about joining an HSBC UK Breeze ride and worrying that everyone else will be better than you... meet Grace, star of the This Girl Can campaign — with This Girl Can.
FLAB Berkshire
If you're new to cycling or want to ride with a group of people without the worry of having to keep up with a bunch of fast riders a FLAB social ride might be just the thing you're looking for.
What is a FLAB social ride?
FLAB Social rides are free, locally organised, 'all inclusive' rides for people of all ages, abilities and genders. The emphasis is on creating an atmosphere where anyone can get out on their bike with a group of like minded people and have a good time regardless of their ability. The rides only have three general rules:    
We will ride at the pace of the slowest rider
No-one gets left behind
There will be a café stop either en-route or at the end where we can have a chat and eat cake
If you're familiar with the concept of 'Breeze' rides its broadly similar without the 'Ladies only' restriction
Why FLAB?
FLAB is an acronym for the Fat Lad At The Back clothing company – this is a brand that prides itself on its 'cycling for all' ethos and provides clothing in a huge range of sizes and styles for both male & female riders. FLAB have created a nationwide network of 'Flampions' who organise rides on the company's behalf. 'Flampions' are unpaid volunteers and give up their time freely to organise rides.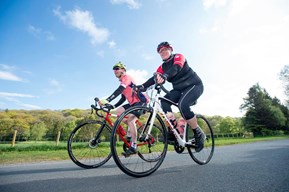 FLAB Berkshire run regular cycle rides for men, women and children.  Full details of these can be found on the British Cycling website.
Wokingham Cycling Club
Wokingham Cycling Club exists as a central point of contact for people in the Wokingham area who are interested in cycling on road together. A mixed ability group meets every Sunday in the town centre.  For further information visit the Wokingham Cycling Club website. 
Sprockets Cycle Club
Sprockets Cycle Club is a British Cycling Go-Ride Club for 3 – 18 year olds, running sessions on traffic free sites to improve cycling skills, confidence and ability. It is an ideal follow-on from Bikeability Learn to Ride sessions.  The club is a junior version of Wokingham Cycle Club and is run by qualified, insured and experienced coaches.  For further information visit the Sprockets Cycle Club website.
Sustrans
Sustrans is a leading UK charity enabling people to travel by foot, bike or public transport. For further information visit the Sustrans website.
Cycling UK Reading
Cycling UK Reading is a local friendly cycling (on-road, off-road, e-bike) club based in Reading with graded road rides starting from 8mph. We never leave anyone behind, and our emphasis is on the social aspect.
With starting points in Reading, Dinton Pastures and the Earley Retreat (PH), why not check our rides list here.
For more information visit the Cycling UK Reading website
Cycling UK
Cycling UK's vision is of a healthier, happier and cleaner world, because more people cycle. For more information visit the Cycling UK website.