Bee Competition Winners!
Bees are necessary for a healthy earth and human life. However bees have been declining and 35 UK species are under threat of extinction.
We recently ran a competition for Wokingham borough school children in KS1 and KS2 to either design a bee house or design a poster of a picture of a bee house.  There were also some questions to be answered to teach the children about the importance of bees, how air quality can affect them and how we can help.
We received 36 entries from schools all over the borough and their entries were amazing (see below for a montage of all the entries).  It was very hard to pick our winners. We considered them all to be very creative and would of loved to award everyone as a winner.   
We are delighted to announce that the winners for the design a bee house option are a 5 year old pupil from Wescott Infant School and a 6 year old pupil from Loddon Primary School. The winners of the poster design are a 9 year old pupil from Westende Junior school and a 10 year old pupil from Loddon Primary School. They will be receiving a certificate, a book about the environment and seedballs to plant.
We will also be rewarding the runners up of each age group with some seedballs. Everyone who entered the competition will also receive a bee protector hero certificate.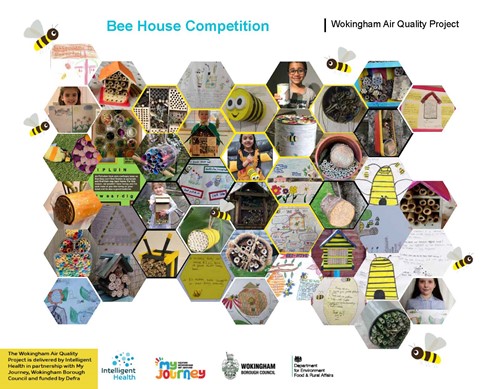 Pupils have really engaged in the questions and have shown their understanding of how the world needs bees, how the air pollution we create also affects them and what we can do to help them. This can be done by making a bee house, spreading awareness and choosing to walk, cycle or scoot to school.
Thank you to everyone who took part in our competition!